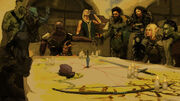 An Evening with RollPlay: The West Marches
or
The West Marches - Live at PAX South
was a non-canon one off live episode at PAX South 2016. A ensemble cast of players from the West Marches appeared as their respective characters enjoying an evening in Frelka's Tavern while Steven played the role of Frelka.
The following appeared on the panel:
Description from the PAX schedule
Edit
Join the cast of RollPlay: The West Marches as they stay in character the entire length of a panel while enjoying a night at Frelka's Tavern. Dungeon Master Steven Lumpkin will be on hand to manage the madness of 8+ characters in the world of the West Marches.
Trending pages
All items (11)