Operation Triple-Kill
Season 1, Episode 5

RollPlay One Shots - The West Marches Week 5, Part 1

Date of Events
3rd of June, five days after events of Episode 4
Airing Date
5th of January 2015
Characters
Navigation
↞Previous

Next↠

Additional Links
▶ Watch Episode
📖 Read Q&A
Help us fill in the story!
The weather starts out cloudy, it feels as it is starting to warm up as it is starting to move into spring.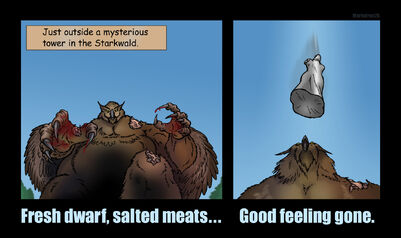 Key Events
Edit
The party adventures in search of talking birds. They find an ooze-touched Owl Bear instead.
"Operation Triple-Kill" - brainstormed a way to kill the owl bear involving poisoned food, flying swords and a stone statue, with no personal risk whatsoever.
No guts, no glory - both literally and figuratively, in the form of Maldrik Ironheart.
Death from above - near half a ton of stone statue, thrown from the fifth floor of the tower.
Treasure
Edit
One blank book, worth 25 gold.
One spell-book from a dead wizard - Kurthak?
Three flying swords activated with command words: Bitumines laudate dominum - Donald
Three potions: healing, sleep and acid resistance[1]
Three vials of acid
Coin: 16 copper, 140 silver and 108 gold
Experience
Edit
Total party experience: 1725 experience points. Divided by three: 575 experience points per player.
300xp for three oozes.
75xp for three twigblights.
150xp for defeating the swords.
1000xp for killing the owlbear.
300xp for completing the quest.
This episode features new awesome Art from Zooc(he does all of JP's Art for the show).
Second episode in a row that Kurthak sits down, back to a solid door, after a close fight.
First characters to reach level 2 (Kurthak, Donald, and Shaldrik).
References
Edit
Trending pages
All items (13)