To Hatch a Dragon
Season 4, Episode 3
Date of Events
Early november
Airing Date
12th of March 2016
Characters
Navigation
↞Previous

Next↠

Additional Links
▶ Watch Episode
📖 Read Q&A
Story
[
]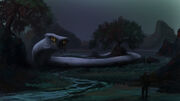 Help us fill in the story!
Key Events
[
]
The party traveled to the Lair of the serpents and spoke with the three serpents about how to hatch Galahan's dragon egg.
The party successfully convinced the serpent that it is better to hatch the dragon than to eat the egg.
The party traveled west, towards Pyrrhinor where it is rumored that a man with knowledge of dragons resides.
Tily killed an seemingly innocent traveling tinker.
The party defeated a bulette.
Treasure
[
]
13 gp from a corpse in the serpents lair.
600 gp from the old man.
A blue sapphire air elemental gem (summons an air elemental if the gem is broken).
An eversmoking bottle: Open the stopper to conjure a cloud of smoke 60ft in diameter, For every round the bottle stays open the radius of the cloud grows by 10 ft, but the bottle is closed a a command word is spoken the cloud dissipates in 10 minutes (Given to Tily).
Ring of warmth: Resistance to cold damage, and everything the bearer wear and carries is unharmed to temperatures down to -50 °F (equivalent to -45 °C).
Experience
[
]
Total party experience: 2500 experience points. Divided by four: 625 experience points per player.
700xp for starting a major quest.
1800xp for the bulette.
Trivia
[
]
The first episode where we saw how the serpents lair has evolved form the first times we saw it.
Trending pages
All items (13)